Meeting Professional Standards
Barters Island Bees is fully licensed to produce and sell our honey and honey products. We maintain the following licenses and affiliations:
We are a fully Licensed Maine State Apiary.
We are members of:
-The American Honey Producers Association.
-The Maine State Beekeepers Association
-The Knox/Lincoln County Beekeepers Association
How we operate
Promoting Healthy Bees and Healthy People

As beekeepers, we are dedicated to the survival of the honeybee. Knowing that hunger is a problem for so many in Maine, we are dedicated to helping reduce hunger and food insecurity in Maine. We actively support Veggies to Table , a non-profit organization that provides nutritious food and beautiful flowers to Maine's hungry children and adults. Your purchases help us help support this amazing organization. Pictured here: Erica Berman of Veggies to Table packing organically grown produce for delivery to hungry families in coastal Maine.

Commitment to Provide Raw, All-Natural and Small- Batch Honey using Eco-Friendly Practices

Unlike most commercially produced honey, the natural honey that we sell is produced in small batches right on our property. We oversee every step of the process. The raw honey you buy is all natural and never filtered or heated. The honey that we use for our Maine Mousse is either from our hives or from the hives of other local Maine beekeepers who maintain these same standards. Enjoy our honey knowing that it's good for you and our environment.

Sharing our love and fascination with anyone who wishes to learn about bees...

We want to get the message out about the importance of the bees. We have presented to groups such as the Rotary Club and Garden Clubs in an effort to help as many people as possible help the bees survive. It is our plan to add hive tours and experiences to teach adults and children about the lives and importance of honeybees. Contact us if you are interested in one of the programs.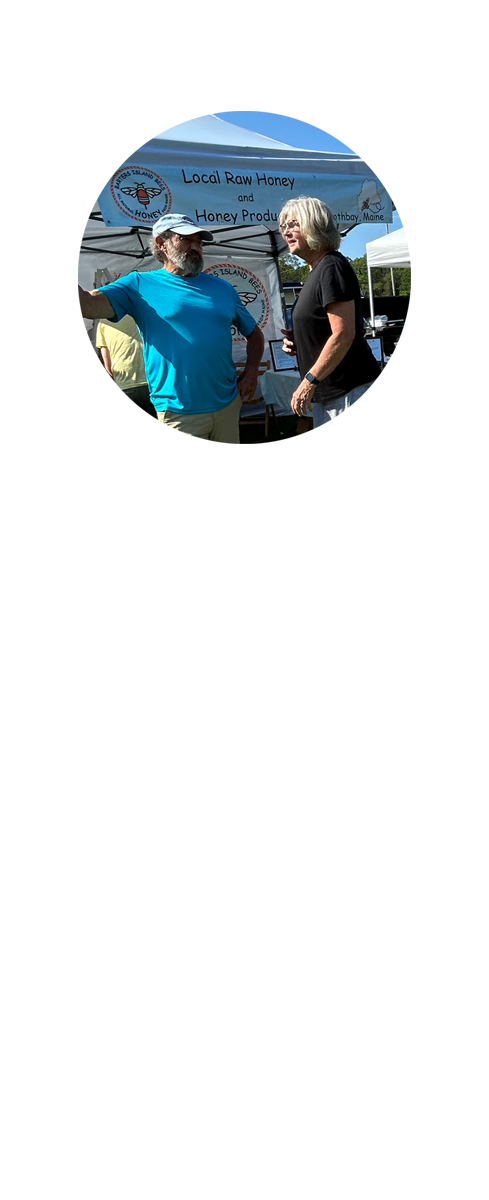 Meet Denny & Donna
Your Barters Island beekeepers and honey lovers are Donna and Denny Denniston, residents of Barters Island Maine. Denny started with 3 hives in 2020. He loved working with the bees and turned out to be pretty good at beekeeping! Soon neighbors were also bitten by the bee bug, and Barters Island's bees now live in hives all around the east side of the island. The Dennistons and their neighbors on the island are committed to providing the bees with the healthiest environment possible... one without harmful pesticides, lots of wildflowers and all the protections that we, as humans, can provide.
Donna is responsible for the creation of the products sold. She'd enjoyed 'honey butter' growing up in Tennessee, but noticed that you don't see it much in Maine, She decided to try 'creaming' some of the honey herself and the product Maine Mousse was born! The Honey Butter is also available infused with organic Blueberry-Lemon, Cinnamon and Gentle Ginger, these mousse-like pure honey products have turned out to be as popular as the original honey! You are warned that other addictive flavors. (Pumpkin Spice, anyone?) are on the horizon!
They both say that the bees allow them to do something positive and creative. When they decided that this endeavor might be a business, they knew they wanted to give back. "Food insecurity and the welfare of bees are two things that we both care about very much. Our bees help us do some good." said Denny. They support Veggies to Table, a non-profit farm providing healthy food and beautiful flowers directly to those in need. As Donna said, "We love the idea of providing the flowers along with the food raised on their farm... something for the body and the soul. Nature at its best!"
An interview with Denny & Donna